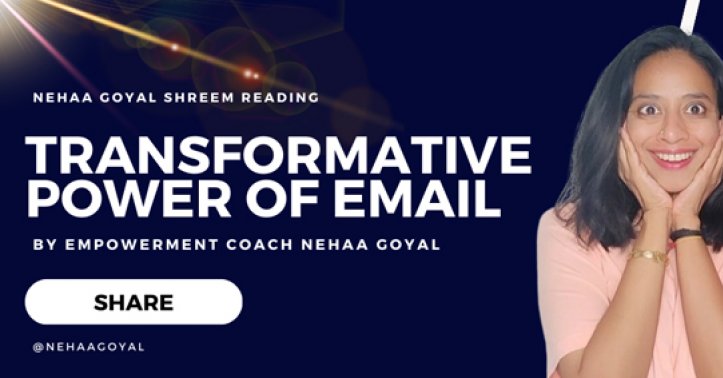 The Life Transforming Power of Email by Life coach Nehaa Goyal
In today's day and age, irrespective of age, gender or career, we are constantly receiving emails
Will you believe me if I say, that in the recent past, I have helped several people in shifting their life by making regular shifts in their email?
Imagine waking up to an Inbox filled with messages that bring a smile to yout face :), opportunities that could change your life, career and relationships.
Emails may seem like just another chore, but in reality, it has the power to transform your life you can never imagine. (For good or for bad)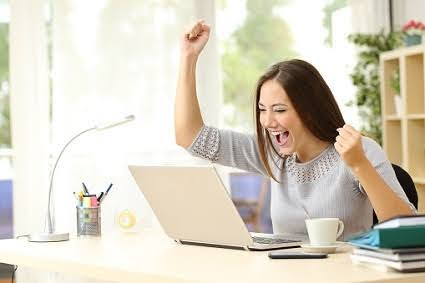 This might surprise a few, however, I have successfully implemented this technique with my Empowerment Coaching and Inner Child Healing clients. They have reported amazing shifts and results
If you are interested in the sneak peak of this technique then read on, and don't forget to share this with  5 people who you will wish these shifts upon
Following are the most common categories in email
·        Inbox – Primary
·        Promotions
·        Draft
·        Trash
·        Spam
Your email, is akin to the energies you invite in your life. Its like your personal environment.
When you open your inbox, the environment your inbox has is a direct message/stimulation to your brain (and also to the internet), that this:
·        This is what you will like to know more of (Inbox)
·        This is where you will invest your resources(Inbox and Promotions)
·        These are your thoughts and what you will wish to communicate with people (Drafts)
·        This is absolutely not needed in your life (Trash)
·        This is a troll or taking up unnecessary space in your life (Spam)
But the question is, are you using your Free Will choice of these Super Powers?
With the above reflections, go back and have a look at your email.
Ask yourself these questions
1.      Is it cluttered?
What needs to go into trash or Spam?
2.      Is it reflecting what I need?
Or am I bombarded with information (Unsubscribe)
By these simple questions, I have been able to help my clients in spending their resources (Money, attention and Time), only on that which is most self serving and Empowering
For eg. One of the clients, Ankit, used to open his office email and get very overwhelmed with all the emails he was CC'd on (He is a working software professional).
His instant reaction was to write a reaction based email back to all those who were questioning him on his timeline of a matter.
I introduced him to the world of Self Empowerment by using the above mentioned categories
What I told him –
I hear you Ankit on the habit and necessity of reacting on people who are pointing fingers at you.
Next time create and email reaction/response and put it in the draft. During the day, come back to that draft 3 times and make changes where the reaction can turn into a response. Then at the end of the day, only if you still feel like sending them email…send it. Else delete the Draft
After 10 days and before our second session he came back to me saying 'Nehaa, this has been mind blowing technique. Not only are my triggers in control, I feel like I have been able to take back my power from these people who were sending me these emails. I am able to make better decisions and ,y productivity has increased. Above all I have become less negative'
This is just one of the examples how I helped Ankit, shift his mindset by the simple technique of email sorting
You may also check your email now and begin by de-cluttering your world, by de-cluttering your email
If you wish to consider personal Empowerment Coaching and/or Inner Child healing sessions for an Empowered and productive Life, check the links below
Click Here For Empowerment Coaching
Click Here for Inner Child Healing
Pass this blog to those 5 people who you truly care for
To read more such articles on personal growth, inspirations and positivity, subscribe to our digital magazine at subscribe here
Comments