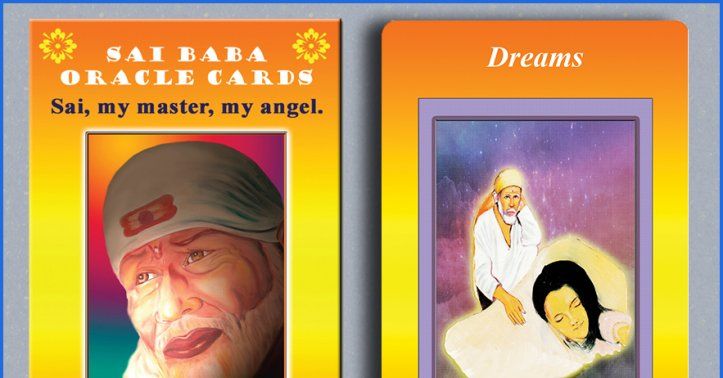 Sai Baba Card for Thursday: "Dreams" & Their Effects on You
Card for today, Thursday, Baba's day is "Dreams".
I have drawn this card has been drawn from the deck, "Sai, my Master, my Angel."
There are two types of dreams
Normal dreams, which are thoughts and the processing of the subconscious mind.
Spiritual dreams, which contain messages and gifts from The Divine Masters, Archangels, and Angels.
Messages in the dream may be either clear cut sentences or might be in the form of some signs and symbols.
For example:
Water symbolizes emotions
Snakes and serpent symbolize enemies
Vehicles like cars, ship, and planes symbolize the path or the direction we need to choose or change
Death symbolizes the end of a situation and new beginnings.
The Masters also do our karmic cleansing and healing through our dreams.
If, karmically, a person has to go through disease or lose a part of the body or meet with an accident and, if your Master feels that you are walking the path and in surrender, He might give us the same experience in our dream state.
When we go through the same experience in the dream we actually feel the pain and experience it wholly - we cry, perspire, our heartbeats fast.
So, what we had to experience in actual life we experience in a dream state. Lots of healing and cleansing has happened to hundreds of people in their dream state due to the grace of their Master. I have personally experienced lots of cleansing in my dreams.
Baba gives a very sweet message through this card that he communicates and answers us through our dreams.
All you Earth angels, do share and write about your experiences of Karmic cleansing and healing through spiritual dreams.
Enjoy free online tarot reading here.
Stay blessed. Stay happy.
Jai Sai Baba!
To read more such articles on personal growth, inspirations and positivity, subscribe to our digital magazine at subscribe here
Comments

Rekha
21-02-2019 at 11:07:07 am
Yes completely agree dreams tell us a lot about our future and present situations.. Many a times healing is done through dreams which we don't even realize that it has happened.... Jai Baba
---
---
---
---
---
---