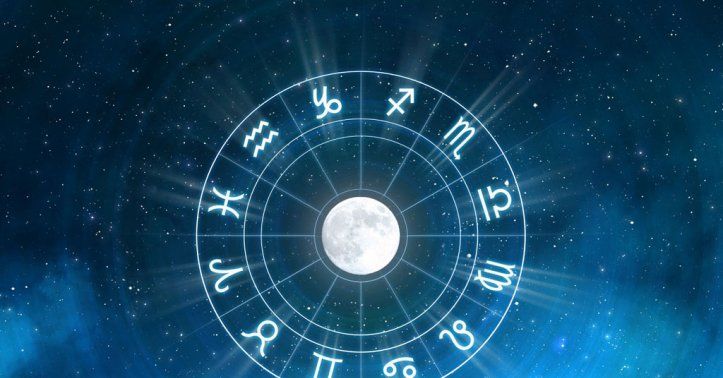 The month of June - It's sizzling! Summer's getting hotter and the sun seems to be ferocious. But what about your cards this month? Are they as ferocious as the summer sun or will they give a splash of respite in the heat? June 2018 horoscope is here to give you answers.
1. Aries
You will slow down in the first week of June.
The tarot card, Five of Pentacles, suggests setting clear boundaries at the workplace. Just be careful not to overextend yourself or take on more than you can handle. Though you may be at the center of a frenzy of activity, you can still get in touch with your calm center and let go of huge burden. Avoid the temptation to spend more than necessary. By mid-June, addressing deeper emotional issues will be your prime focus. In close relationships, trust can be an issue and you may find yourself more confused, defensive, and suspicious than ever. Though it is a temporary phase, keep reminding yourself that this too shall pass. Meditation and yogic breathing will help to regain your center and develop your sense of inner peace. A peaceful getaway or trip to mountains will be rejuvenating. Try Dharamshala/ Dehradun, or Dubai/Sri Lanka.
2. Taurus
As the month begins, you will have the zest to be up-front, open, honest about something, which might be bothering you since long.
The tarot card, Six of Swords, indicates that you will be realistic about what can be achieved and what is best avoided. Entering into new agreements can be complicated at this phase. Verify projects carefully before making any significant moves or commitments. Greater awareness will be required for long-term desires and ambitions, especially related to your career. On the personal front, cards advice you to be vigilant of your words while making yourself clear. You will be urged to look at things in a novel way. A different approach towards relationships can help in improving situations. By mid-June, romance may also need to be re-evaluated. Your stamina and immune system could dip; so take care of your health. A family trip to Mumbai, Columbia, or Thailand is indicated.
3. Gemini
You may feel more optimistic than usual and may reach out and make new contacts who will help you greatly.
This is a productive month for Geminis. The tarot card, Ten of Pentacles, invites blessings and support from well-wishers. You have great potential for success if you stay firmly grounded. In times, when few people honor promises and value responsibilities your energy is a welcome breath of duty and loyalty. That said, your boss and subordinates would trust you for a prestigious project. On the personal front, the card indicates that an old relationship either fizzles out, or renews altogether. Singles, who have been waiting for the right time to approach their admired ones, this is a right time. Don't hold on, go ahead and share your inner feelings. A rewarding trip is predicted that will bring in popularity as well as financial deals. A business-cum-pleasure trip to UK / US will be beneficial.
4. Cancer
You will enjoy climbing up the ladder and the money-making efforts.
The tarot card, Ace of Pentacles, inspires to put your creative ideas into practical efficacy. Your thinking and strategic planning will be enhanced while your communications flow smoothly. You are likely to seek professional or political power. You may deal more with authority figures and be able to enhance your personal recognition and public reputation. Those who want to strike out and do something new in their careers, this is a favorable month to explore new arenas. Personally, take some time out to watch a fun movie, have dinner out, or get some take-out. Whether it is family values or emotional fulfillment in a relationship, this is a time to work hard for peace and commitment. A holiday trip can be planned along with your friends or family. This will prove to be a memorable one.
5. Leo
Over the first few days, you might find yourself visioning new plans or interacting with like-minded people.
The tarot card, The Lovers, indicates great opportunities or exciting events in store. You are likely to see the drawbacks as well as the benefits of the plan that is developing inside you. You will form a frame that allows you to see your world and your activities on the public stage quite differently. The workplace environment will be peaceful and cordial. Long-term investment in property can be profitable, careful check of papers is suggested. On the domestic front, events and people will come into your world to lighten up your life. In close relationships, it is a learning phase, learning from your past, not by punishing yourself or blaming others, but by being more tender and nurturing yourself. Meetings and travel outside your own city will attract positivity and productivity. You are likely to explore Kuala Lumpur, Shanghai, or Colombo.
6. Virgo
You are likely to consolidate your gains on the professional front.
The tarot card, Queen of Pentacles, indicates a time of material security and satisfaction. During mid-month, you have to be responsible and fair in your dealings with others. You must stick to schedules and follow procedures. Virgos who are in the field of marketing and public relations will gain independence and self-reliance and will avoid relying too much on others. You will feel like spending money on luxury and style. On the personal front, you will have to learn to say no to unnecessary demands and decide in advance just how much you can do for others. You will try to iron out the difficulties in any situation, specifically with your mate. Singles who have been waiting for the right time to approach their admired ones, this is a right time. Don't hold on, go ahead and share your inner feelings. A trip to Dubai or Singapore will be favorable.
7. Libra
You are likely to make significant progress in your objectives provided you use innovative skills.
The first few days of June can bring childlike enthusiasm. Some of you may face dilemma revolving around money and financial decisions. The tarot card, Page of Pentacles, foretells that you will also feel the need for recreation, especially in the field of creative pursuits. In terms of finances, the cards urge you not to take unnecessary risks; instead, focus on the tried and trusted areas. As the month progresses, you will feel joy as well as responsible for close connection with others. If you are in a committed relationship, it is likely that this month will bring togetherness and bonding. An increasing number of people may turn to you for advice, friendship, or support. Health needs attention; join a gym or go for regular walks. A memorable family holiday to Goa, Bangkok, or New York is indicated.
8. Scorpio
You may want to surprise your partner by planning a small weekend getaway.
The month of June brings a transition time for you. This is a period in your life when you must move, move away, follow a new direction or re-evaluate your priorities in life. The tarot card, The High Priestess, suggests that you will try balancing your professional life. Investments done earlier will become profitable. You will be able to recover money lent to others. It is a welcoming stage for teachers and trainers. The last week of this month will make you noble and generous with family and friends as you share goodwill and hospitality. This month will give you a deeper insight and understanding of your own love needs and possibly of an existing love relationship. Family will play a dominant role, as you will want to spend quality time with them. Travel close to mountains will be fun and romantic.
9. Sagittarius
You will find yourself devoting more time in dressing up and enjoying the company of friends and family this month.
Inner strength is the word for Sagittarians this month; as the tarot card, Seven of Pentacles, indicates that it is time to take a reality check on your progress. Existing problems in your profession can be handled by a courageous attitude and by adopting a straightforward approach. Those who are willing to be more independent may decide to start your own consultancy or business. Please analyze your finances before going ahead. Mid-month will be a favorable time to eliminate non-essentials and strengthen your security. There is love and fulfillment in personal relationships and friendships. You will realize that celebrating togetherness beautifully and intimate experiences of life are just as necessary as any other experience. A positive and creative approach towards family problems can solve old problems. A trip to Dubai, London, or Bali is indicated. This will bring excitement and pleasure.
10. Capricorn
You can expect to encounter romance, new conquests, or light-hearted intimacy.
The tarot card, Three of Wands, invites a time of treasure when you are making your break into a new horizon, at times, slow and graceful and, at times, moving with a sudden impulse. Entering into new agreements can be profitable with known people. At your workplace, you will feel energetic and competitive with increased strength and self-confidence. Travel will bring good news and new openings are foreseen. Export-import business is likely to pick up this month. Your personal life looks interesting. You are given the go-ahead to flirt and play romantically as long as you don't fall into traps and recognize that disillusionment can hurt! If you are in a committed relationship, it is likely that this month will bring important changes there, perhaps along the lines of greater intimacy. A reunion can bring back an old flame or friend.
11. Aquarius
You will find yourself contemplating to change a job or about shifting a role in your present company.
The tarot card, Temperance, is out for Aquarians. If you are holding on to something, this often indicates that we ignore the known sources within ourselves, our own inner confusions, which stop us from actually following our true beliefs and conviction. It is a good period to be creative; trust your instincts and follow through. Business owners will want to expand their work. Just be careful in making financial investment. The domestic front can take a lot of your time. Expect to be busy improving your surroundings at home. You may choose to think healthy and implement a new fitness program. Romantically, you may find yourself surrounded by admirers or having to choose between committing to two equally lovely souls. Listen to your heart. A trip with friends/family is on the cards in the mid of June.
12. Pisces
If you are looking for a new job, then meeting new people and spreading a word around will be beneficial.
This is the month to lay low. The tarot card, Three of Swords, recommends that Geminis should not aim too high; instead, utilize this time to prepare for a bigger opportunity in the future. At the workplace, you may find a lot of things getting jeopardized because of certain misunderstandings. Cards suggest watching your impulses and trying to control those wavering desires. Businesspeople may feel stuck in sales and marketing; they need to plan proper strategies for long-term goals. The personal front brings in some solace with the card, Three of Cups. This card also indicates that it is time to be more sensitive to your own and your partner's needs and be more creative with the relationship. Love mates will want to plan and set intentions about how they want to see their life in the future.
Exploring the month of Gemini (May 21 - June 21)
Gemini is the third astrological sign in the Zodiac, symbolized by the Twins - Castor and Pollux. As Geminis are a mix of yin and yang, they are represented perfectly by the Twins. Because of this, they can easily see both sides of an issue. This is a unique practical quality. Gemini is ruled by Mercury, the planet that represents communication, writing, and movement. Gemini is one of the three Air signs, the others being Libra and Aquarius that connect it to all aspects of the mind. A Gemini-born is a quick-thinker, quick-witted, and agile. They are gentle, affectionate, and curious. They have an extraordinary ability to learn quickly and exchange ideas. Music, books, magazines, and conversing with people are their passions. Tarot card associated with this sign is 'The Lovers.'
Personality
One of the greatest strengths of the Gemini is their ability to communicate effectively and to think clearly. Exploration of the mind is what the Twins are all about. They are considered to hold inexplicably artistic and innovative abilities. They are known to be extremist and hasty, yet accountable and well-organized. Due to their dual personality expressed by the twins of their sign, they are considered to be the most misunderstood of all signs. Geminis can be seen in different moods because of their high degree of mental processing and thinking. They have an uncanny ability to talk to anyone and about almost anything under the sun. They turn into good professionals and maintain a good reputation among their clients.
Love
Gemini-born can be a great friend. They love to share themselves with their friends. Whether it is friends, family, or a lover, they are exceptionally loyal once they are committed. They can be charming companions and huge flirts at times. They need their freedom intact and their space unshaken even in the most intimate relationship. Spontaneous, entertaining, humorous, and witty, this is someone everyone wants to be friends with. They love to communicate with someone that is on their wavelength and with whom they can share their knowledge and intellect.
2018! Chances of meeting someone you feel you have known before and with whom you have an immediate rapport. If you are in a committed relationship, it is likely that this year will bring important changes, perhaps along the lines of greater intimacy. Married couples may enjoy space apart and discover that when they are together the harmony is greater.
Career
Air signs are considered to be thinking person's signs; those born under this sign honor intellect and consider it vital for living. At work, they are the clearest of thinkers, looking at a project from all perspectives. They have logical minds, therefore, struggle to deal with authoritative figures. Gemini-born is known for multitasking, problem-solving, and giving birth to new ideas. The best careers for them are traders, inventors, writers, journalists, orators, therapists, and lawyers because this gives them the opportunity to communicate freely.
2018 brings in encouraging opportunities to grow. This is a good year for improvements, focus, and taking risks. Even if some of them fail, they will add greatly to your eventual success. Midyear phase will be favorable for those in the business of communications and imports; there is a promise of achieving your long-held dreams. By the end of this year, you will get higher responsibilities and authority at the workplace and will be able to prove your potential.
Health
Gemini-born has an innate buoyancy of spirit and youthful exuberance, which help them to appear forever young. They are often involved in more than one task at a time, therefore, their minds don't stop thinking. Cards suggest you to slow down a bit.
Health wise, you seem to be in good shape. Take care of your respiratory system and don't ignore a nagging cough or cold for too long. Anything in the extreme - eating, drinking, working, sexual activity, exercising - can lead to an unbalanced life. Keep a close watch over obsessions in life. Regular walks and yoga can help in boosting your immunity.
Travel
Gemini-born likes to be adventurous in everything that he or she does and enjoys short road trips. As they are intellectually inclined, they love to perpetually explore people, cultures, and places in search of information. They like to plan their travel schedule well in advance.
A weekend trip with friends is indicated in the month of August. Projects or business expansion in Dubai, Singapore, or China will be beneficial. Last month of this year indicates some excitement to look forward to - travel, adventure, or footloose and fancy-free individuals come charging in your life.
Comments