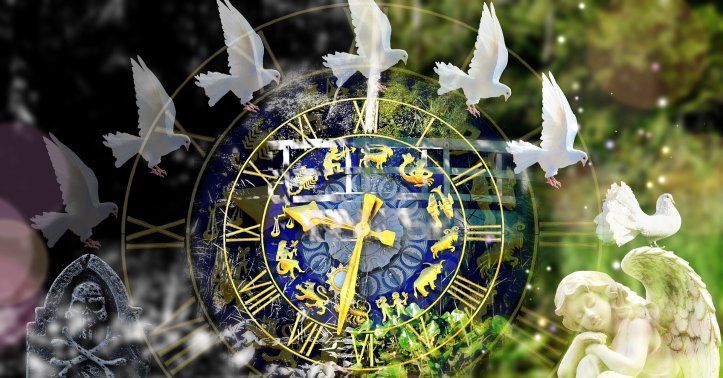 March 2019 forecast: From Cold To Warm, Check Your Future!
It's time to say goodbye to the cold months and welcome warmth in our lives. As the season changes, is your future still cold or indifferent or is it warm and friendly? Check March 2019 forecast and see what the season of colors holds for you.
1. Aries
Card of the month: High Priestess
Career: You may pay less attention to your emotions and neglect your partner as you would want to focus on career. Students will have a different vision for their future which may not go well with most parents.
Finance: Any job/business/ partnership proposal should not be taken up without deep contemplation.
Love: Singles will be waiting for the right time to reach out to the one they admire.
Travel: Travel plans can get delayed but eventually, it will happen in the coming months.
What will be new: The card can bring in the waves of confusion in personal and professional life. The card for March 2019 forecast suggests shedding the past baggage that you accumulated unknowingly and is the right time to liberate our energies. Listen to your inner voice to take a decision. Pay attention to your dreams as your intuition may be heightened in this period. On the other hand, it is advised to strike a balance in your personal and professional life.
2. Taurus
Card of the month: Seven of Cups
Career: Whether it's literally a new career/enterprise or a chance for greater clarity within a relationship, this card suggests you getting up and taking charge of your life. Strained situations in office and trepidation about unpleasant outcomes could lead to temporary stress.
Finance: The tarot card for March 2019 forecast indicates that there will be a window of opportunity, but you got to be vigilant to recognize it.
Love: On the personal front, you will feel satisfied and contented, which will affect the whole family and married life. Parties and social occasions will keep you busy. A relationship may reach a turning point, where you decide to deepen your commitment with one another or choose to expand your family.
Travel: You will also get a chance to travel abroad towards the end of the month.
What will be new: Try to release your stress through exercise or writing or communicating your feelings to a friend.
3. Gemini
Card of the month: Queen of Swords
Career: At work, you may feel perturbed by your boss's behavior. This can lead to unsettlement in mind and you may begin to reconsider this job altogether.
Finance: This tarot card for generous Gemini for March 2019 forecast propels them to expand their vision as far as possible and never limit their thought.
Love: Personal life is seen to be going through a rough patch. Regret over lost relations may bring sadness and denial. Let go of your attachments and do not fear the loss of love and care in your life at this moment.
Travel: Going on a small break to seashore will be relaxing, e.g., Goa, Pondicherry, Mauritius.
What will be new: Pressure from a female may increase, be it your mother, girlfriend, boss or wife. Handle it with patience. Things will change for the better in the coming months. A little counseling or healing can help you calm your energies.
4. Cancer
Card of the month: Hermit
Career: March 2019 forecast brings hope and positive developments in your business. A project that's been nothing more than a dream lately could be seen coming into reality.
Finance: An investment scheme that's too good to be true can be offered to you by an unknown person; think twice before commitment. Your income can increase provided you focus and take decisions wisely.
Love: In personal relationships, you may feel like people have changed and conversations don't hold those old emotions anymore. Instead of just thinking about the differences, take steps for improvements.
Travel: Road travel is indicated for a lot of Geminis. Holiday in the hills will excite most of you like Shimla, Dharamshala, Assam.
What will be new: The card encourages you to take a rational view of every situation. Business, love life, or health, every aspect of life needs careful understanding. Just keep moving one step at a time and the Universe will guide you forward.
5. Leo
Card of the month: Tower
Career: This is a sensitive phase, according to March 2019 forecast. You are advised to reorganize things and declutter your life. Your former colleagues or supervisors may offer or introduce a new job, which will not be a bad idea to consider. Don't be surprised if you encounter that a coworker grabs an opportunity or a promotion that was meant to be yours.
Finance: The card indicates a prominent shift in terms of career/relationships or even the city.
Love: There would be a lot of pressure at home but your efforts would be rewarding eventually. Support from family and friends will be a blessing at this time. Love life seems to be romantic for committed couples.
Travel: Business/work tours would turn out well for you. You might travel a lot due to work reasons. A family trip to Dubai, Thailand, Mumbai will be a memorable one.
What will be new: Sudden changes are indicated this month for Leos. Health will be fine.
6. Virgo
Card of the month: Nine of Wands
Career: A minor crisis at the workplace will bring clarity in your observation as you will see the true intentions of most of the people around you.
Love: You may feel slightly constrained by your mate or spouse's possessiveness. Instead of suppressing the emotions to maintain peace, it's time to set clear boundaries.
Travel: You will love to go on adventure trips with friends this month.
What will be new: This is a month for patience and endurance for Virgos. That tarot card Nine of Wands signifies that whatever you have been through in the past, whether it was cheating, emotional pain or bad relationship experience, you are now prepared to move on. In developing your strengths, you have gained wisdom and self-awareness, but you are still cautious about encountering the same experience. Some of you will recognize that being stuck in a rut can be very frustrating, and try to discover new ways of operating.
7. Libra
Card of the month: Justice
Career: Be careful in business partnerships. Legal affairs should be dealt with carefully. You may consider having a business partner, but be sure it's someone you know well or who can be trusted.
Finance: If you stay balanced, you can expect good fortune in both career and wealth.
Love: If you're in the midst of making serious decisions about love life, this is the right time. Commitments and engagements can be expected.
What will be new: This is a lovely month for Librans! You can expect a major decision to be made during this month, according to March 2019 forecast. You may need to evaluate your choices and make an appropriate move that befits your higher interest. Cards show a higher support system from the Universe. Someone can enter your life who will inspire you not just to trust others but also to trust yourself again and connect to your inner self. A misunderstanding with a friend will be cleared smoothly.
8. Scorpio
Card of the month: Sun
Career: This is a rewarding month ahead in terms of career and profession. The card indicates that whether you are a company employee or a businessman, you will have moments of achievement in the coming weeks. The March 2019 forecast also indicates that you can have a creative idea to begin a new career or you can take up a new position within the company you currently work with, or that you'll start up your own business.
Finance: Your talent will be recognized by your superior or boss and you may get a raise, provided you work hard and prove yourself. If you are expecting debts to be cleared, it may take some time.
Travel: Travel will be beneficial especially overseas.
What will be new: A recurring health issue may require medical attention but it will be healed soon. You are prone to gastrointestinal problems this month; pay attention to diet, exercise, and take a good sleep. Taking a short break can be revitalizing.
9. Sagittarius
Card of the month: Seven of Pentacles
Career: At the workplace, you may encounter diplomacy. March 2019 forecast suggests being firm but polite and making sure you clear out things peacefully. If you feel stuck in the present work scenario, start networking again and keep a lookout for interesting jobs in the market.
Finance: Sort out your paperwork; otherwise your tasks might get delayed. If you have an investment in mind, it should only be carried out after your own analysis. Never simply follow the crowd; you may lose money in vain.
Love: Emotionally, you know exactly what needs to be eradicated from your life. If a relationship has become more of a burden that's now holding you back from happiness, just reconsider. Learn let go of the past and embrace the present moment. Some confusion may persist in married couples too. Consider it temporary.
What will be new: The card bears the message to not to overindulge in anything.
10. Capricorn
Card of the month: Eight of Pentacles
Career: The card also signifies victory over challenges that may arise in your professional and personal life. You can get inclined towards a course of study, take up a new skill, learn new techniques and peruse your passion.
Finance: The card for March 2019 forecast indicates time for big changes, don't be afraid, go forth and work hard for it. A good phase for forging alliances and enlisting the support of influential people.
Love: Singles might fall for someone and expect a positive response to your proposal. Be patient and wait for the right time. In personal life, someone's constant complaining and squabbling may make you feel irritated and helpless.
Travel: A small getaway trip will be rejuvenating. Goa, Maldives, Bali will be great stress busters.
What will be new: March will prove to be unusual for most Capricorns. Take time out for yourself, recharge your batteries, and keep a distance from all forms of negative influences.
11. Aquarius
Card of the month: Ace of Cups
Career: People will be supportive and that will invite more opportunities to develop new customers and new markets. It's your turn to be grateful now. Charity and helping the needy will bring more joy in your success. Artists, singers, and writers can get recognition.
Finance: Businessmen can expect better luck in wealth and get much more profits than last year.
Love: On the personal front, singles may choose to settle down in this period. An old flame could send you a message or try to reconnect with you. If you're not yet romantically engaged, keep your energy open as you may attract a compatible soul soon.
Travel: It's a favorable period for travel. A trip to Chennai, Mumbai, Colombo will be beneficial.
What will be new: This is an excellent time for Aquarians! The card for March 2019 forecast brings in fresh, creative, and intuitive energies for most of you. Consider practices involving breathing, running, meditation, and yoga for better health.
12. Pisces
Card of the month: Five of Pentacles
Career: This is a positive month for entrepreneurs and business people. You would possibly encounter growth opportunities this month. The card for March 2019 forecast brings new opportunities and breakthrough in your career. During this phase, you'll want to improve your professional knowledge and study further in your spare time, which will be beneficial for your future career development.
Finance: Watch out for spending impulsively on things you really don't need.
Love: Emotional and personal front can be a bit sensitive this month. Your children or family members may become a source of tension around, but you need to stay calm and detached to take right decisions. For male singles, you may meet a girl who has a strong personality. Whether to stay with her needs, your careful consideration will be required.
Travel: Work travel is indicated.
What will be new: This is an interesting phase for Pisceans. Keep a check on your eating habits; exercise and yoga can keep you healthy.
To read more such articles on personal growth, inspirations and positivity, subscribe to our digital magazine at subscribe here
Comments