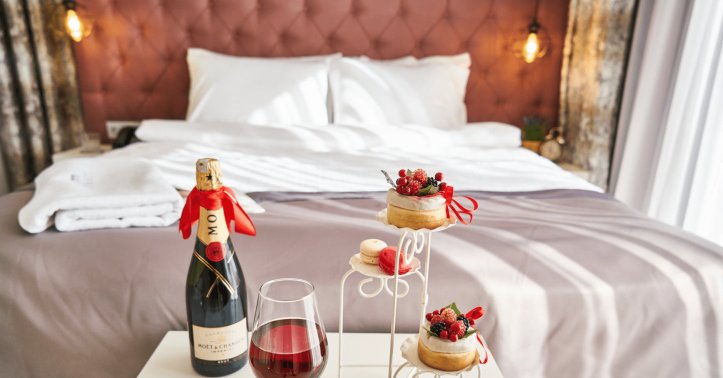 Here's Why Drinking Wine Before Bedtime is Good
There has been a debate for quite some time now regarding wine consumption at night before bed. Of course, the pros and cons are laid out, but the most crucial question here is this: What are the effects of drinking a glass of your favorite wine, say Cabernet Sauvignon, before bedtime?
Many attest that red wine is considered as one of the best sleeping pills one can take since unlike other alcoholic drinks, a red wine actually has a substance that helps with health.
The Healthy Compound: Resveratrol
Resveratrol is a compound that can be found in red wine called which is also attributed as a sleeping aid. It is basically a naturally occurring polyphenol (plant-derived) compound, which is rich in antioxidants and has potential health benefits.
Additionally, this polyphenol helps in neutralizing the free radicals, which tends to wreak havoc on cellular functions that are considered as critical. More importantly, the resveratrol compound is the grape's primary immune response to the vine's cellular responses.
It means to say, that the resveratrol found in the grapes helps the vine cope up with oxidative mayhem around it. For instance, pathogens, stress, UV damage, environmental toxins like pollution, and other heavy-hitting free radical producers, which damages the grapevine's cells belong in the category.
On the other hand, resveratrol is considered beneficial for people, since the free radicals are considered as one of the culprits for aging, degradation of heart health, diabetes, Alzheimer's, and immune responses.
Thankfully, a food rich in antioxidants can definitely help out in rendering and neutralizing the free radicals. In this case, the resveratrol found in wine can be beneficial for people who like to drink wine. However, caution and discipline should be practiced since too much consumption of wine is no longer good for the health.
Why Should You Drink Wine Before Bed?
So, what are the benefits of drinking wine before going to bed? You may have been wondering about that for quite some time now. Well, the following reasons might help you consider why you should drink a glass before hitting the sack.
1-2 Glasses Can Help You Lose Weight
Red wine contains a chemical which is known as Ellagic acid. The said acid helps slow down the growth of fat cells and stops the formation of new ones, thus making your body end up burning fats.
Additionally, the stated chemical also boosts the metabolism of fatty acids that can be found in liver cells. Research has found that a glass of wine in the evening can help you out in losing weight faster. The reason why you lose weight faster is that a glass or two of red wine helps out in cutting your appetite or cravings, and lower your blood pressure.
It also helps you feel more relaxed. This means to say that you will crave less and eat less that will result in an earlier bedtime.
Unwinding Your Mind from Stress
Having a glass of wine after a long day equates to you celebrating your mental health. It helps your mind and body calm down, taking you away from the accumulated stress that you may have had during the day.
In the evening, you should let it all hang loose, forget about work, if you are with your family or friends, then you might want to enjoy it with them. You must treat yourself after a hard day's work. Thus, having a good wine and good company helps you de-stress and unwind.
Remember to Drink in Moderation
Red wine still has tons of potential health benefits that are yet to be studied by scientists and medical professionals. With this said, you mustn't overlook the potentially harmful effects of red wine when taking in too much consumption.
The health benefits of red wine truly look promising. Also, those who drink in moderation seem to have a lower risk of heart disease. However, you must understand that you shouldn't overestimate the benefit from drinking a glass of wine before bed or any other time of the day.
Takeaway
Having a glass of wine before bedtime might not be your ideal way of preparing for sleep. But if you will give it a shot, you'll be surprised that it actually works. Not to mention that you would get to drink your enjoyed beverage without worry, and perhaps, with delight, that it has health benefits.
However, make sure that you do not consume too much of it as it might lead to health consequences instead of helping you get a sound sleep. As such, practice caution and discipline when it comes to drinking wine.
To read more such articles on personal growth, inspirations and positivity, subscribe to our digital magazine at subscribe here
Comments