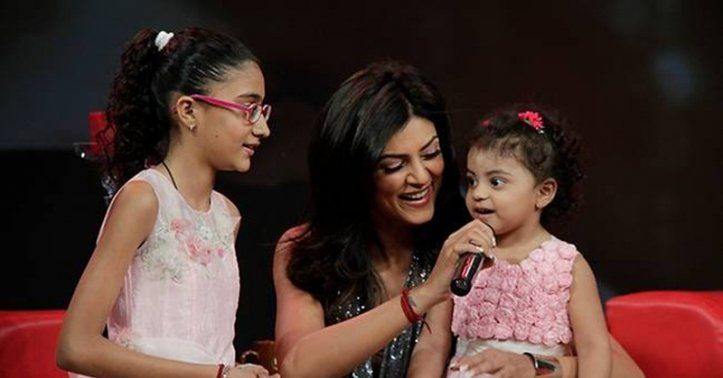 Mothers Day 2018 India: Is Sushmita Sen A Good Mother?
"She's not born from my stomach but from my heart," said Sushmita Sen when her adopted daughter Renee Sen turned 18 on September 4, 2017. The first Indian to win the Miss Universe title in 1994, this Bengali beauty shocked the world when she announced her decision to be a single mother. This ex-Miss Universe and noted Bollywood actor is an inspiration for women, especially on Mothers Day 2018 India.
Sushmita Sen was just a teenager (18 years of age) when she won the crowns of Femina Miss India and Miss Universe 1994. Today, her daughter Renee is a teenager, in fact, she has stepped into adulthood, while her "Mommy Universe" has stepped into the fourth decade of her life. Both are brimming with beauty and energy.
This image was posted on Twitter by Sushmita Sen.
Single mother rocks!
Sushmita Sen was a tomboy. The way she transformed into beauty is incredible. She studied in Hindi medium and honed her English speaking skills dedicatedly for the beauty pageants. This girl from Bengal, hailing from a middle-class family, shocked the country by bringing India on the world map of beauty pageants, but the biggest shocker came when she chose to adopt a girl child at a young age of 25. She even had to fight a legal battle in the High Court of Mumbai to prove her eligibility as a single mother.
Sushmita Sen's life story consists of many achievements. Besides the crowns, she won several awards, including "I am Woman" award in the category of Woman of Substance and "Mother Teresa Award" in the category of Social Justice.
But her biggest achievement is child adoption. The actor loves kids. She has set an example for women in India and the world that it is not necessary to have a man in your life to be complete. She deserves special mention on the eve of Mothers Day 2018 India. The actor boldly adhered to her decision of adoption despite challenges and obstacles in the way. One of the biggest challenges was social acceptance.
Sushmita Sen's first adoption - Renee
Sushmita Sen made history when she grabbed the Miss Universe crown in 1994. She again made history when she adopted a lovely girl child, whom she named Renee, in 2000. Being a single mother, that too at the age of 25, was unheard of, especially in Indian society.
Isn't it ironic that a society that allows girls to marry and have kids at the age of 18 objects to a lady adopting a child at the age of 25?
Actually, Sushmita Sen wanted to adopt at the age of 22, but the court had not allowed her. It took her years to convince the court that she was eligible for adoption. It is said that India still does not appreciate single mothers. This Mothers Day 2018, women of the new generation should resolve to be independent, firm-headed, and open-minded so that we can celebrate the very essence of being a mother, which does not limit to being a biological mother.
"To be born again" - this is what the name Renee means. According to Sushmita Sen, she actually felt to be born again after Renee came into her life. She claims it to be her life's most significant happening. ​
Sushmita Sen's second adoption - Alisah
The gritty actor decided to adopt a second girl child soon after but again had to face challenges. Do you know she had to fight a legal battle for 10 years to be able to adopt a second child? This is because in India, as per the law, you cannot adopt a second daughter. If your first adopted child is a daughter, then the second child should be a son.
However, she won the battle and adopted Alisah when she was just a cute baby of 3 months. This was in 2010. Alisah means "joyful" in Greek and, surely, the second daughter has doubled the joy in her life. This Mothers Day 2018 India, we need to remember brave and determined mothers like Sush (Sushmita Sen) who defied all odds to enjoy motherhood. Sushmita Sen adoption episodes leave a strong impact with regard to becoming a single parent.
6 Lesser Known Facts about Sushmita Sen
The proud and poised mother has four dogs and a python as pets.
The gown that Sushmita Sen wore at the Miss Universe pageant was no designer wear. A local tailor had stitched it under the guidance of her mother.
The gloves she wore at the pageant were made of a pair of socks.
She wore a saree for the first time on-screen in the movie "Main Hoon Na."
She founded a charitable body called I AM Foundation.
Sushmita Sen Miss Universe writes poems.
Mothers Day 2018 India: mothers with a difference
Sushmita Sen, age 42, is a bold Bollywood mother, who has made every mother and woman proud,. She has lived life (and still lives) on her own terms. Sush hardly cares about the "rules" of society. She believes in bending rules and even making new ones. At present, Sushmita Sen daughters, Renee and Alisah, form the most joyful part of the actor's life.
Apart from setting an example of a single mother, she also shows the world her spiritual side. It is not easy to adopt and rear two children single-handedly. It requires a lot of emotional stability and an open mind towards newer experiences. Only somebody with a spiritual awakening and empathetic attitude can do this. Do you know she is the first Bollywood actor to adopt a child?
With the forthcoming Mothers Day 2018 India, let's remember the time when she was crowned Miss Universe. It is said that several participants withdrew their names when they learned that Aishwarya Rai was participating. But Sushmita stayed on...and won! This, again, shows her spirit of determination. Her striking answer for the final round of the pageant is hard to forget. The question was: What is the essence of a woman?"
She had answered that being a woman was God's gift that needs to be appreciated. A child comes from a mother and she is a woman. It is a woman who shows what caring, sharing, and love is to a man and that forms her essence.
This Mothers Day 2018 India, ladies, show your essence. Be proud of being a woman and a mother. You need not give birth to a child to be a mother.
Happy Mother's Day!
Author's Bio:
Shipra Singh is a senior content writer at lifepositive.com. She is a kidney donor and has experienced life's many colors, including grey shades, that have helped her discover her spiritual side. The writer believes her life is a novel and she makes sure to turn one page at a time to understand the Divine Plan better. A God-loving person, Shipra has healed herself of life's injuries through cooking and dance therapy.
To read more such articles on personal growth, inspirations and positivity, subscribe to our digital magazine at subscribe here
Comments