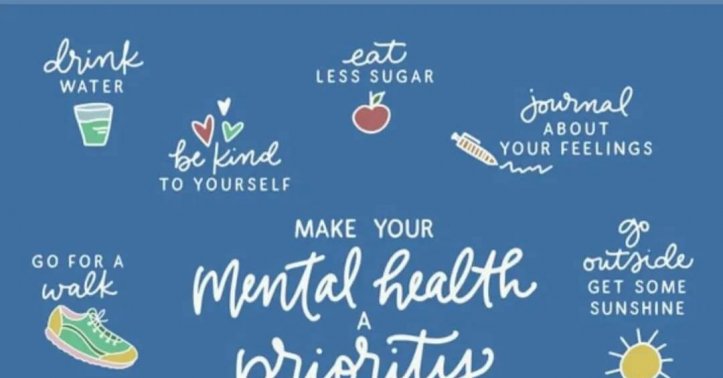 5 simple tips towards better mental health
Mental health has always been challenging - physical ailments, wounds are more easily recognised than the ones deeply entrenched in our minds. The mental health symptoms are more subtle , more challenging to decipher especially in today's trying times when we are continuously on the go; multi-tasking between home and career; darting between multiple tasks; juggling responsibilities - always on the go. Being there for others, we forget to take care of ourselves and we feel stressed and overwhelmed after a while.
A few easy tips towards better mental health you could practise on a daily basis :
1. Go out in nature
It doesn't have to be long. Start with atleast 15 mins. It could be what you enjoy - stroll in the park, stargazing, a brisk walk or a jog. Breathe in the fresh air and allow the freshness to seep into your being. If you are fortunate to stay near a sea or a garden, take time out to dip your toes in the ocean waves or sit under a tree, basking in its shade. Notice how you feel in your body - before and after. That alone should be incentive to make it a daily routine.
2. Connect with your tribe
We, as social beings aren't meant to be alone in our suffering. we needn't be isolated in our pain. Connect with a close friend, a family member or a neighbour. If you feel you are still holding on to your feelings - if you feel you cannot express freely - pick up a journal. A journal has been my best friend from the past few decades. Write until you feel better. Write until you feel lighter. Write what you are feeling- your every fear, your every dream. Write what tears you down, write what builds you up. If you are worried about someone reading your journal, shred it after you write. But write. Language isn't important - expression is. It is important to express whether its on paper or verbally with a loved one.
3, Watch your diet
Notice the foods/ drinks you consume . Avoid the foods that make you feel lethargic or overly stimulated ( especially if you are already feeling low). Watch out for what you're consuming - both your diet and through your other senses. Notice the people who are draining you. Limit your time with them. Notice the people who uplift you- inspire you. They are your go-to people when you're feeling low. Sometimes, being with a pet or spending time with your child makes you feel a lot better. Watch out what makes you feel at peace. Limit your time on television channels/ news that makes you feel anxious or heavy. Listen to music/ podcasts that bring a smile. I personally have a list of songs, I listen to, if I have had a particularly challenging day. Make it a conscious choice to be in places that support your well-being.
4. Get physically active
This is what every health professional recommends, whether physical / mental health. Find an activity that uplifts you. It could be walking. It could be dance, it could be running. It can be yoga. Try to schedule atlest 25/30 mins of exercise everyday - even if its just a walk. If you're in an office, climb the stairs or hit the gym. Get some movement going. Pain/ trauma gets stored in our body. It is important to let this go out of our system, lest it leads to a disease.
5. Breathing:
Breathing is the simplest and the quickest way to calm down your nervous system. If you've had a fight with your partner, a difficult conversation with your collegue/ friend, your kid giving you a hard time - whenever you feel overwhelmed - just keep your hand over your heart and breathe in from the belly. Take 3/5 deep breaths and notice how you feel. Try it out and see for yourself - how it makes you feel, both before and after.
However, if you find yourself constantly overwhelmed, caught in a loop of anxiety - don't hesitate to ask for support. Reach out to a mental health professional - counsellor, coach, therapist or mentor for help. Remember, its a strong sign to ask for help. You needn't do it all alone.
To read more such articles on personal growth, inspirations and positivity, subscribe to our digital magazine at subscribe here
Comments