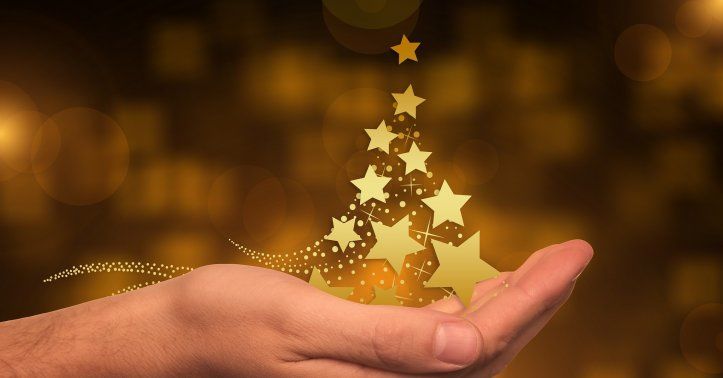 The Healing Power of Christmas: The Secret Discovered!
Apart from the Christmas carols and the plum cakes, this beautiful winter festival has a lot to do with healing lives. Curious? Well, this isn't a new trend. It's just something that I recently discovered and wish to share with you. I discovered the healing power of Christmas.
An incident that made me discover the healing power of Christmas
A couple of days ago, I went on a shopping spree. How happy I was to be able to buy all the things I wanted! Then, suddenly, I saw something while returning home. My car came to a screeching halt. There played a group of kids, maybe in the age group of 5-10, on the pavement. They showed no worries and perhaps no desires. They were simply...happy.
A little ahead, I saw two adults. A lady gathered small pieces of logs to create a fire to cook the evening meal. There lay a few pots and pans. A man was sitting beside her, smoking. They both were laughing and chatting. I assume they were husband and wife and the parents of those kids.
The pavement was their living room, bedroom, and kitchen. They had no roof over their heads, but the vast sky. They were not confined within walls but enjoyed the endless open space.
Yes, I would say "enjoy" because they showed little care. The lady meticulously arranged the logs for fire as if this was the most important thing in the world. But yes, it was! For, she was living in the moment. Her focus for that particular time was how to create a fire for cooking.
I was spellbound to see how people can live without the basic amenities and still smile! It was like I uncovered the secret of the healing power of Christmas.
Look at us.
We have almost everything we need. Even hot water to bathe in winter, soft beds to sleep, air conditioners to keep us cool during summer, concrete houses with expensive home decor, cars, a well-equipped kitchen and even maids to cook and clean, and nice clothes. Are we happy?
Look at them.
They sleep on the hard cemented pavement, bathe in freezing water, sleep under the stars, and eat whatever they manage to get. Yet they seem to be happy. They can at least smile in a carefree manner and guffaw without care. They live each moment as it comes.
Can we do this?
Alas, we constantly plan for the future and often recall the past. We hoard things, spend money on things we hardly need, go out to "enjoy" with friends and family, and more.
Yet, ask a well-educated, "successful" person with a high profile corporate job, "What are you looking for?"
He or she would say, "happiness."
We seem to have lost the healing power of Christmas. Many of us don't even know that Christmas has healing power. It's not just a festival or a holiday.
How I discovered real happiness!
I was lost in these thoughts when, suddenly, I remembered the pile of shopping bags in my car's backseat.
I stepped out of the car and took one bag. It had an expensive dining set. I was admiring it when one of the pavement kids came near me, seeking a glimpse of the shining satin gift paper. I showed the kid the gift. I also showed him a cute soft toy, a pair of candle stands, and other "goodies" that I had purchased. Soon, other kids surrounded me.
I asked the kids, "Do you want any of these?"
They shook their heads in a "no."
"Then what do you want?" I asked.
One of the kids pointed her finger at a tiny ice-cream kiosk. Other kids also nodded.
I was awed. This is what makes them happy - such a small and simple desire! And here I was laden with all the expensive "goodies," which failed to impress these little Divine beings.
The kids and I marched towards the ice cream kiosk. We all had ice creams. The kids were jumping with joy, laughing and playing, relishing those melting delights.
They were so engrossed in their "happy moments" and I was left alone with my big, expensive gifts.
What I learned that day...
We need to harness the healing power of Christmas. This Christmas, don't just give gifts to people around you. Give them happiness. It won't break your bank, I promise. You would be surprised to find that happiness comes at such a heavy discount!
Be the Santa Claus of Happiness.
Making others happy is the best healing you can do to yourselves. It is the most effective stress-buster. It is the best medicine for all your emotional problems.
Oh, by the way, I also discovered that crystals are powerful healing stones. Why not bring in some crystals at home this festive season? Know how to use crystals for healing.
Before you do special prayers for Christmas, make sure you have ignited joy in somebody's life.
Guess what?
It is the little things in life that shower happiness in us. You need not roam in big shopping malls and buy huge gifts. Just buy a poor kid a small present, feed a hungry animal, or make a sad person laugh.
This is the real healing power of Christmas. Jesus had said, "Let there be light." And the light is born not when we kill darkness, but when we light somebody's heart. You can also contact some of the top therapists and healers of the country and heal yourselves and your loved ones.
Merry Christmas!
Author's Bio:
Shipra Singh is the senior content writer of lifepositive.com. She is a kidney donor and has experienced life's many colors, including grey shades, that have helped her discover her spiritual side. The writer believes her life is a novel and she makes sure to turn one page at a time to understand the Divine Plan better. A God-loving person, Shipra has healed herself of life's injuries through cooking and dance therapy.
To read more such articles on personal growth, inspirations and positivity, subscribe to our digital magazine at subscribe here
Comments