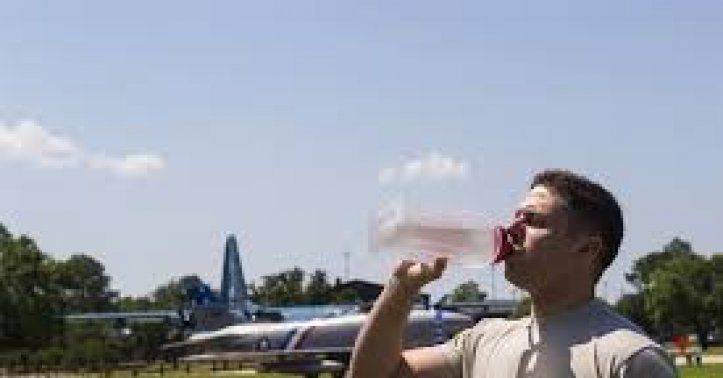 ​ How Hydration Affects Your Sleep
You've probably heard the advice to drink eight 8-ounce glasses of water every day, and even more, if you're pregnant, physically active or live in a dry environment. Not drinking enough water makes you feel sluggish and moody. These are similar to the effects of sleep deprivation. You might be surprised to learn that poor hydration can also lead to low-quality sleep. Find out how hydration affects your sleep and what you can do in order to get the right amount of high-quality sleep every night.
Side Effects of Dehydration
Dehydration has serious side effects. They are your body's way of telling you to remedy the situation. Some common side effects of dehydration include muscle cramps, headaches, and dizziness. If your dehydration is severe, you could become confused, develop a fever, have a rapid heart rate or even lose consciousness.
How Dehydration Impacts Sleep
Dehydration makes it more difficult to fall asleep. If you're staring at your clock, still awake, this could make you anxious, worsening the situation. Dehydration also shortens your duration of sleep. While you sleep, your body uses this time to make cellular repairs, get rid of metabolic waste products and remove toxins from the brain. If you sleep less and are dehydrated on top of this, your body will not be as efficient at cellular repairs or restoring chemical imbalances. Poor sleep is also associated with diabetes, cancer, weight gain, poor immune function, memory loss, and moodiness.
What Happens If You Go to Sleep Dehydrated
If you go to sleep dehydrated, you're unlikely to sleep deeply. Dehydration often causes muscle cramps in the legs, so the cramps could wake you. Dehydration also leads to a dry mouth, dry nasal passages, and a dry throat. The dry throat and nose could trigger snoring. If you have a sleep partner, your dehydration could disturb their sleep. When you wake up, you could end up with a sore throat from the dryness. Dehydration also reduces REM sleep, causing you to wake up feeling slow and less alert.
How Much Water You Really Need
The old eight 8-ounce glasses of water advice are no longer the gold standard. Men need more water than women, people who are active need more than people who aren't, and pregnant or nursing mothers need more water, too. On a hot day or a day that you're active, you'll need more water than usual. A reusable water bottle with an ounce or liter markings makes it easy to track your water consumption. A good way to gauge if you're properly hydrated is to observe the color of your urine. If your urine is clear, you're well-hydrated. If it's light yellow, consider drinking more water. If it's dark yellow, you're probably dehydrated.
Get a Good Night's Rest
If you become dehydrated during the day, it might be tempting to chug a huge bottle of water right before going to bed. This is a bad idea. Instead of fixing your dehydration, it will cause your bladder to fill, and your bladder will disrupt your sleep. It's better to avoid dehydration in the first place by drinking water throughout the day. You can also enhance your sleep experience by choosing a high-quality mattress suited to your sleep position and sleep style and creating a quiet, cool and calm bedroom environment.
To read more such articles on personal growth, inspirations and positivity, subscribe to our digital magazine at subscribe here
Comments