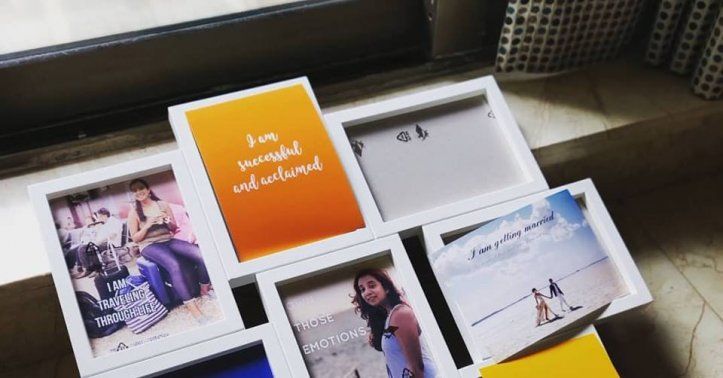 The Why's, What's, and How's of an Inspiring Vision Board
We all have dreams. We all also have fears.
And we tend to operate more out of those fears than in the pursuit of our dreams.
So, a vision board helps in training our minds to focus on what we want, rather than all that we don't want.
Here are my four reasons for recommending a vision board to clients who, after a space of healing, have reached a certain level to move forward in life.
When you start putting things down on paper, suddenly it all starts becoming real – in your head, in your heart as well as around you. Your eyes will start going on things that relate to your vision and desires.

When you put things on a vision board, your mind starts working towards a plan. There's a sense of clarity and direction that comes through.

Every picture that represents the vision you are chasing or the dream you've been seeing, once pinned in front of you on a board or on your computer, will evoke a certain feeling. And that's the ultimate aim of a vision board – to help you recognize the emotion that you feel when you experience that vision becoming a reality and be able to let you hold on to that feeling and work from that space. That's when you make the choices that are completely aligned towards your highest good.

When you are chasing your vision there are obstacles – you get stuck, start feeling demotivated and unable to move in any direction - that vision board is something that'll keep you on track and wouldn't let you run in an opposite direction.
As your vision board evolves, so will your life. This brings me to what exactly this board is all about.
What is a vision board?
It's a physical, tangible representation of how you would want your life to be like or who you would like to be.
It can be about one aspect of your life like work, family, relationship, fitness or it can be an amalgamation of all these.
On your vision board, put up images of your vision and not just of your immediate goals. Your immediate goals can be pinned on the board as to-do lists, but ideally, a vision board is the larger picture. So, stay in the macro space.
How to create a Vision Board?
Our life is made of different aspects. So, the first thing that you need to do is figure out all the things that define your life.
Imagine that your life is like the wheel of a cycle with its different spokes representing various parts of your life. Start naming these spokes and make sure you have images that represent the most important spokes, the ones that you really need to shift right now for you to move towards the life you want to be living.
The vision board comes in all shapes, sizes, and forms.
It can be something you can create on a soft-board by cutting out printouts or clippings from a magazine or a newspaper.

On the wall with a bunch of frames.

On the wall with strings tied and pictures pinned on to it.

On the computer in the form of a power-point presentation.

On Pinterest or a scrapbook if you don't want anyone to see your vision board.
While posting stuff on the vision board, remember:
The image has to inspire you.

It has to reflect the vision or picture you're holding in your head. It doesn't have to be the exact picture but a good reflection of it. Recreate the image in your head with 4-5 pictures that represent your vision.
Include important words that act as gentle reminders, eg., if one quality that you need to get to your vision is consistency then put up a picture of the word consistency. Similarly, put up words like motivated or driven. Pick up words that push you towards the vision and keep you on track.

It should be a collection of images representing various aspects of your life. So, if you are working towards money then put up a picture of actual notes, and also post images of the kind of lifestyle you'll have when you'll have that money.
And finally, be flexible with your vision board.
It's ok if after a few months a certain part of the board doesn't fit in and you have to remove it or add another vision. Don't try to complete it in one day or one week. Always be open and leave room to add more.
This is your feel-good space where you go to feel strong, happy, driven, and moving forward with a sense of direction.
To read more such articles on personal growth, inspirations and positivity, subscribe to our digital magazine at subscribe here