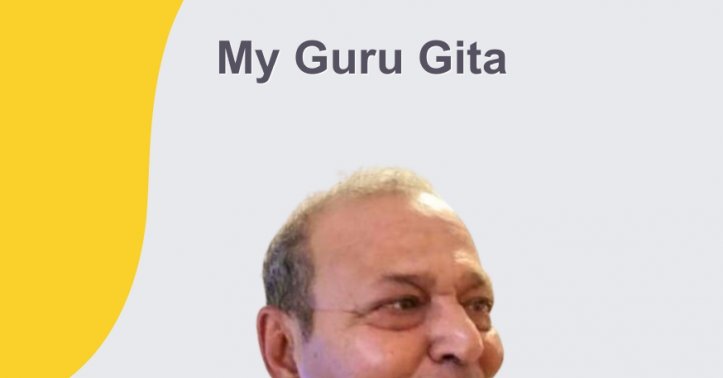 My Guru Gita

In the journey of every seeker, there comes a moment that changes the course of their life forever. For Pradeep Bhanot, that moment arrived in the tranquil surroundings of Panchkula, where fate orchestrated a meeting with the revered spiritual guide, Guruji Shri Shri Raj Kumar Ghaiji. This divine encounter would become the foundation of Pradeep's spiritual path and the inspiration behind his book, "My Guru Gita" 
From the very first meeting with Guruji, Pradeep sensed a mysterious and unexplainable connection. It was as if the cosmic forces themselves had conspired to bring them together. Guruji's gentle demeanor and profound wisdom resonated deeply within Pradeep's soul, leaving an indelible mark on his heart. 
In the presence of Guruji, Pradeep experienced a newfound clarity and purpose that had eluded him until then. The emptiness and confusion he had carried for so long were replaced by a sense of fulfillment and stability. Guruji's spiritual guidance opened the doors to self-discovery and self realization, and Pradeep knew that he had found the missing piece of his life's puzzle. 
As the mentorship progressed, Guruji imparted invaluable insights into the intricate workings of the universe and the interplay of cosmic energies. Through their conversations, Pradeep's passion for astrology deepened, and he began to understand its profound impact on human lives. Guruji's teachings ignited a fire within him, driving him to delve even deeper into the mysteries of life. 
Beyond the realm of astrology, Pradeep experienced glimpses of spiritual guidance and profound insights. Their conversations transcended the limitations of earthly knowledge, delving into the realms of divine grace and universal wisdom. Guruji became not only a teacher of astrology but also a spiritual guide, leading Pradeep on a path of self-realization and innertransformation.  CLICK HERE TO READ MORE
To read more such articles on personal growth, inspirations and positivity, subscribe to our digital magazine at subscribe here
Comments