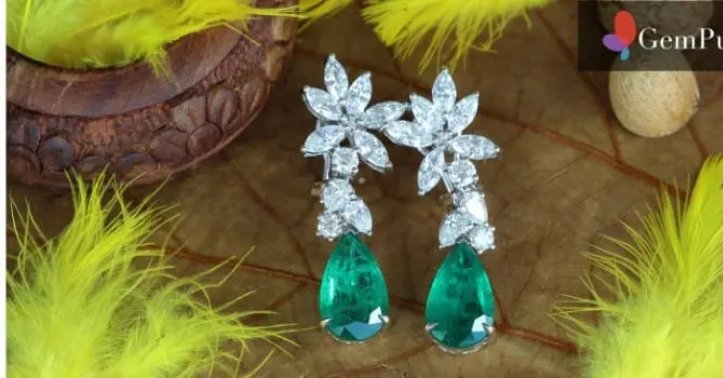 A-Z About Astrological Gemstones
A-Z About Astrological Gemstones
In Indian culture, since ancient times, astrology has been well-known and well-respected. The majority of people believe in astrology even today and before making any important life decision, they consult astrologers for their buy-in. Whereas there are some events that are planned only after an astrologer has mentioned auspicious dates, days, or months.
For instance, weddings, launching a business, buying a new vehicle, and more. Apart from consulting astrologers time and again, people also try to attract desired things in life by frequently practicing small tips. Wearing Gemstones is one such thing.
Importance of gemstones in Astrology
Gemstones are very important when it comes to astrology and Vedic remedies to improve life. Basis deep knowledge, astrologers analyze the characteristics of gemstones before suggesting it to a person to solve a particular problem. For example, to help a person effectively attract good job opportunities an astrologer may suggest him/her wear Opal stone. But, you must know that the same trick may not work on someone else because the person is only following it by assuming that it will work without knowing if the stone suits him/her or not. So how do we know what stones suit us and what not?
Identifying the right astrology stones
There are a couple of ways that an astrologer follows to suggest a suitable stone to a person. First is, what are the issues that the person aims to solve in his/her life and what stones are suitable to do that. After identifying the stones, the astrologer further analyses which stone will suit the person the best and will be effective in solving that problem. The second way is, which common people can also follow, to wear gemstones as per one's astrological charts. Meaning, basis date of birth. Every gemstone is ruled by a planet and therefore, it is easy to identify a suitable gemstone basis the mutual ruling planet. You can choose the following gemstones basis your natal chart:
Capricorn – Governed by the planet Saturn, Capricorns are strong-headed people convinced to win the entire world at once. They are blessed with creativity and good calculation skills. They make very high goals that can be difficult to achieve, ultimately causing depression. They must wear iolite or blue sapphire to avoid these tendencies.
Aquarius – Saturn also rules Aquarius and they are blessed with unique mental abilities. They are very emotional people as well. Like Capricorns, they must wear iolite or blue sapphire.
Pieces – Pieces are ruled by the planet Jupiter. They have great thinking abilities and are spiritually inclined. They always try to find the truth in everything.
They must wear Yellow Sapphire or pukhraj to aid them in their spiritual journey and life. Aries – This sign is ruled by Mars and is always highly energetic. So much so that Aries can tire themselves with their own energy levels. Therefore, the best-suited gemstones for people born under this sign can wear Red Coral. These stones help the wearer with healing powers and also provide a constant source of energy.
Taurus – Ruled by the glorious planet Venus, Taurians aim to have a luxurious life. They work hard to fulfill their dreams and enjoy their lives to the fullest. Therefore, people born under this sign must wear diamonds that attract a good lifestyle and other luxuries of life. Diamonds also encourage Taurians to take a creative approach in life.
Gemini – Geminis are ruled by the planet Mercury. Hence, most Geminis are highly intellectual and blessed with the flexibility of perspectives. It is recommended for them to wear Emerald stone. It is also known as Panna stone. Panna allows the wearer to think clearly and patiently. It also helps avoid overthinking.
Cancer – People born under this sign are extremely calm and quiet, at least that's how they appear. This sign is ruled by the planet Moon. Moon stands for emotions and therefore, Cancerians lead a very sensitive life. It is recommended to wear pearls to help calm down the deep emotions and live a hassle-free life.
Leo – Leos are ruled by the planet Sun. they are born leaders and sometimes they tend to overshadow people around them. It impacts their relationship. Therefore, it is recommended for less to wear Ruby stone that promotes harmony in relationships.
Virgo – Like Gemini, this sign is also ruled by Mercury. They make for brilliant planners and are supportive in nature. They tend to overuse their energy and hence they must embrace Emerald. These stones help them source the required energy to get through anything they desire.
Libra – Like Taurus, Libras are also ruled by Venus. Librans are very talented and creative. They are also very emotional people, which becomes problematic in various situations. They are recommended wearing white topaz or diamonds to attract creativeness and also avoid any kind of stress.
Scorpio – People born under this sign are ruled by planet Mars. They are blessed with immense energy levels and are always involved in doing some activity or the other. They are also deep thinkers. They must wear Red Coral, just like Aries, to restore their energy and also avoid any overthinking.
Sagittarius – Ruled by Jupiter, Sagittarius is very hard-working, ambitious, and adventurous. They tend to work tirelessly and if over-ambitious, it can create a lot of troubles. To retain their ambition and provide proper direction to their hard work, they must embrace yellow sapphire or Pukhraj.
How to wear astrological gemstone
Today it is easy to wear astrological gemstones without worrying much about what people may think. You can wear them as trendy gemstone Jewelry or carry it with you in your pocket. Although, the former is recommended and is a safer option. It is also important to wear gemstone of an optimum weight to reap its benefits. Gemstone weight is measured in the Ratti unit. In general, you should go with 1 Ratti per 10 kg of your weight. For example, if you weigh 70 kg, you should wear gemstone between 7-10 Ratti.
Buying gemstones
Given the rich history of astrological gemstones in India, these are commonly available at jewelry showrooms. However, you can also buy them online from trusted websites such as Gempundit.com. There are some advantages of buying gemstones online. First, you can comfortably lock the preferred gemstone basis your budget. Offline stores generally push you to buy the most expensive gemstone to make more profit. But this is not the same for online platforms. Online stores, like Gempundit, showcase all the variety of a gemstone in a non-biased manner, giving you more power to buy as per your budget. Secondly, online gemstones sellers are particular about the authenticity of the products they sell and therefore they provide detailed information on gemstone and authenticity certificates. These players also try to constantly enhance user experience on their platform without focusing on the amount of purchase a user makes. Therefore, you can also try to lookup for suitable gemstones online to buy and share your experience with others.
Making gemstones work effectively
Astrological gemstones are best worn as gemstone jewelry and they must be held with auspicious, natural metals such as gold or silver. Other types of metal are artificially made and limit the power of gemstones. Gemstones are naturally occurring stones under the earth and hence must be accompanied by natural metals only. Secondly, as we mentioned that gemstones are ruled by planets hence they draw their power from them. Every gemstone demands good maintenance and zero-cost recharge. To reachable your gemstones, you must wash the stone with fresh water and leave it under the open sky to connect it with its fellow planet to draw power. The cosmic energies passed on by the respective planets re-energize your atone and make it more powerful.
Do not forget to like and share this article with your near and dear ones. Have a great day!
To read more such articles on personal growth, inspirations and positivity, subscribe to our digital magazine at subscribe here
Comments