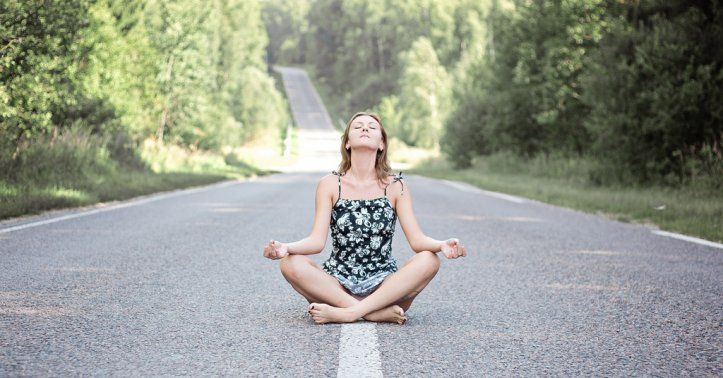 National Meditation Day 2018: How To Meditate When You Are Busy?
Where is your mind these days? Are you fully aware of each moment? With National Meditation Day 2018 on May 31, it is time to ponder and give your life a deeper meaning.
We all have heard and read a lot about meditation. Talk of this and the image that flashes into the mind is of a person sitting cross-legged in a quiet corner with eyes closed, breathing deeply, and being silent...for a long time. But who has time to sit silently? More importantly, where do you find a quiet corner, especially when there are naughty kids in the house?
The thought of sitting quietly in one place for a long time seems intimidating to many. This is one of the reasons people avoid meditation. They come with an excuse of having no time or no place and so on. Who says you must meditate for hours? Just 5 minutes and voila, you are all charged up!
Remember; happy and healthy minds work the best. Meditation calms your mind and paves way for happiness. As a result, you can improve your social, professional, and personal life.
I am relaxed. Are you?
The biggest problem with morning meditation for energy
The mind is restless. Research shows that it is possible to have about 40,000 thoughts in a day. This, truly, is mind-blowing! Thoughts travel more than the speed of lightning. How to control them? Meditation is maybe the answer, but the biggest problem that people generally face is meditating with a mind full of thoughts.
How to solve the problem?
Take a deep breath first. Yes, that's the core of meditation. Let thoughts race in your mind. Do not control them. Meditation is not about control, it is about the release.
So, for the first few days, you will be sitting in a quiet corner with your mind full of noise! Let it be. Gradually, thoughts will begin to disappear. Then, you will be able to sit in concentration...doing nothing...breathing in...breathing out.
The first step
Be conscious of your breathing. Are you aware of how you are breathing now? When we are under stress our breathing becomes shallow. Ever noticed how you take short and quick breaths when in fear, in anger, or in worry?
So, the first step to meditation is learning to breathe deeply and slowly.
Meditation 5 minutes a day
On this National Meditation Day 2018, resolve to meditate daily. Too busy to do this? Well, contrary to a popular belief that you need to meditate 15-30 minutes or more to reap its benefits, you can meditate for just 5 minutes and feel energized.
5-minute meditation helps you focus on breathing. You may open or close your eyes. However, it is easier to concentrate with eyes closed. This is especially relevant for beginners.
5 minutes, 5 Steps:
Sit on a chair comfortably. You can also sit on the floor on a mat. Let your spine be aligned naturally. Sit straight, not too loose or too tight.
Be conscious of your body. Take a quick visual tour in the mind from head to toe. Release tension from areas that feel tight. Feel the touch of your body on the floor, your very existence that you are sitting here, and other sensations happening in the body.
Focus on your breath. Observe the natural flow of air in and air out. Do not do anything. Just focus. Try to feel the breath inside your body. Is it in the abdomen or the throat or the chest or in nostrils?
It is usually at this point that the mind begins to wander. Do not worry. Let it. Ask your mind gently to focus on breathing again. You will be surprised that it will obey you!
Once you focus on breathing, you will start to breathe deeply. Do this for 5 minutes.
Avoid getting up suddenly. Be conscious of your body once again. Then, slowly get up. Notice how you feel after this.
Doubtful whether the above steps can happen in 5 minutes? Try it yourself! You will want to stay in meditation for longer. However, just 5 minutes can help you pump up with energy. You feel fresh and ready to take up the challenges of the day. So, whether you are a busy housewife, student, or a working individual, you now have no excuse to not meditate. Those with a habit of procrastination can resolve to start meditating on National Meditation Day 2018
5 Minutes meditation benefits
It relaxes you instantly. The deep breaths you take to charge up your blood vessels with fresh, oxygenated blood that travels to your brain, making you feel more alert and agile.
It serves as a quick de-stressor, especially during morning rush hours.
Once you make it a part of your routine, 5-minute meditation makes you resilient to stress. This helps you take life's ups and downs with a calm and composed mind.
This helps tremendously when you are under pressure of meeting deadlines in the office or are under emotional stress.
It makes you feel better.
It helps to usher in positive thoughts in your mind. Just before meditation, you were apprehensive about a problem; Just after meditation, you begin to get ideas on how to deal with the problem!
People who think 5 minutes is too less a time for meditation must sit for 5 minutes doing nothing. You will realize the "length" of 5 minutes. It has 300 seconds. You spend these 300 precious seconds of your life with complete mindfulness, taking rejuvenating breaths, and being one with the Universe.
Imagine the magnanimity of 300 seconds!
10 Minute positive meditation
Have more time? If yes, you can meditate for 5 more minutes and make it to 10 minutes. If not, you can still do the 10-minute meditation.
Do it while eating your breakfast!
This is called mindful eating. Anything done with full awareness is meditation. So, if you wish to be in a meditative state the whole day, do everything with complete awareness and no wandering thoughts. Just focus on the task at hand.
Breakfast meditation
First, prepare a healthy breakfast. Set a nice table. You are now about to experience bliss while eating. How many times do we stuff food in our mouths hurriedly, without relishing its taste and flavor? Probably all the time! For many people, mornings are so rushed that they even skip breakfast.
The 10-minute meditation will not only help you relax but also make sure that you eat breakfast daily. So, you get a bonus benefit.
10 minutes, 10 steps:
Sit to eat without a mobile in hand or nearby. No television, no other gadget to distract you. Focus on having breakfast.
Meditation is all about focus. It teaches you the power of mindfulness...to live in the "now."
Observe food on your plate. Good food presentation is a feast for the eyes. It also helps to arouse appetite. This is especially relevant for those who are not habitual of having breakfast.
Sit straight, yet in a relaxed manner. Never slouch while eating.
Close your eyes and thank the divine for a delicious breakfast in front of you.
Imbibe in the aroma of food. How it tantalizes your tastebuds!
Open your eyes. Take a morsel of food and put it in your mouth.
You may use forks and knives; but to truly feel the touch of food, use your fingers. (Make sure your hands are clean before eating).
Chew the food properly. Yoga and Ayurveda practitioners and almost all alternative healing therapists suggest chewing the food 32 times before swallowing. Digestion starts from the mouth. So, feel the flavor spreading in your mouth. Enjoy the taste. Swallow with full awareness.
Hear the clinking of plates and spoons on the table. Let them feel like music to your ears.
How blissful becomes your breakfast time! Just 10 minutes and you experience one of the most fulfilling times of your life. Did you notice you have used your five senses while eating breakfast?
Best morning meditation: 5 Senses in play
When you observe food on the plate you give yourself a visual feast.
Take in the aroma of food and you give yourself aromatherapy.
Chew food and you give your tongue the delight of taste.
Pick food with your fingers and you give yourselves the pleasure of touch.
Move your plates and spoons and the clinking sounds seem to soothe your ears.
Breathe 'Life' into your existence
We all are living, are we? Simply surviving is not healthy living. You need to pump "life" in your life. Healers call it "prana"- life force. Where has "life" gone from our lives? Actually, we need to ask "why." High ambitions, materialistic desires, fast-paced lifestyle, and pollutions of different kinds (environment, noise, and thoughts) make us forget our real self.
Most of us have become "robots." We get up in the morning, do our routine, rush to the workplace, work like a programmed machine, return home, and fall asleep. Whenever we get time, we eat in a hurried way. No wonder lifestyle diseases are on the rise. People do not need medicines; they need alternate healing therapies. They teach us holistic living.
Many healers use meditation for mental health. Evidence shows that meditation affects brain waves. To put it in the simplest form, it soothes all nerves and neurons.
The best way to start meditation is to become aware of how you breathe. A lot of good can happen when you improve your breathing pattern. Long, deep breaths are better than quick, short breaths. The former also contribute to reversing aging.
How breath affects the body
Body and breath are connected to each other. You may have often noticed that you breathe normally when you feel well. Your breathing becomes shallow and hard when your body is under physical stress or is unwell. However, thanks to the constantly stressed lifestyle, people have adopted the shallow breathing method. We are not using our lungs up to their full capacity.
Do you know the human lungs can fill up to 6 liters of air? How much air do you fill in your lungs with each breath?
Deep breathing fills your lungs with air. This helps oxygen and nutrients to enter the blood better. A few minutes of deep breathing leaves you feeling fresh and vitalized. This is because oxygenated blood has reached your brain and each cell of your body is throbbing with life.
How breath affects emotions
Almost everybody has experienced a change in breathing as their emotions change. Observe how hard and quick you breathe when you are angry or anxious. Your breathing becomes irregular when in grief or under fear or huge stress. When you are relaxed your breathing becomes deep and slow.
How breath affects the mind
When the mind is free of worries, tensions, useless thoughts, and shadows of the past it easily enters the meditation mode. That's why the best meditation techniques suggest emptying the mind first. You cannot empty the mind by suppressing the flow of thoughts. The trick is to let them flow until they stop flowing and you are fed up with them. At that point, you are ready to focus.
Quick tip
Experiencing a stress moment?
Do this: Inhale deeply. Take 3 seconds. Hold your breath for 2 seconds. Exhale with a little force. Take 4 seconds. Do this 3-5 times. It feels like you are exhaling the stress out of your system. You feel good.
If you don't want to do this, simply focus on your breath. Imagine positivity entering you through the nostrils while you inhale deeply. It is energizing your whole body. Now imagine negativity coming out of your body through nostrils when you exhale.
The best part of this meditation is that you can do it anywhere, anytime. You can try it now! In case you are wondering, is there a meditation coach near me, you are coming one step closer to divinity because meditation helps us connect with the divine energy.
Author's Bio:
Shipra Singh is a senior content writer at lifepositive.com. She is a kidney donor and has experienced life's many colors, including grey shades, that have helped her discover her spiritual side. The writer believes her life is a novel and she makes sure to turn one page at a time to understand the Divine Plan better. A God-loving person, Shipra has healed herself of life's injuries through cooking and dance therapy.
To read more such articles on personal growth, inspirations and positivity, subscribe to our digital magazine at subscribe here
Comments