New Age Fiction - Malgudi magic
by VN Narayanan
Where the ordinary is extraordinary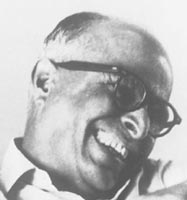 I met R.K. Narayan in 1967 on one of his visits to Delhi. I was with two friends, both journalists, who pretended to be intellectuals well acquainted with Narayan's works and how they compared with those of, say, Dickens, Marx, Franz Fanon, et al. All along the way, they were discussing RKN's novels, and characters, as though they were doing a doctorate on the author. My own acquaintance with RKN was more at the mundane level of having read, and greatly enjoyed reading, Swami and Friends, Bachelor of Arts, The English Teacher and Man-Eater of Malgudi.

My advantage, as I soon discovered, was that I found in all his writings my own experiences and environs of childhood, adolescence and adulthood. Malgudi was my own Chittoor of primary school days. And Swami was myself-innocent (''Rajam, can you lend me a policeman?''), afraid of bullies, fearful of unseen forces (''He wanted to abuse the gods but was afraid to'') and patronizing to boys smaller than I was. Chandran—''He spent three months in a state of bliss, notwithstanding his ignorance''—in Bachelor of Arts was also someone I know and could empathize with. Everything I read in RKN's stories is familiar and dear to me; I have seen them all around me as I grew up. Swami's grandmother was my own grandmother, indeed everyone's grandmother in South India's Brahmin middle-class households and every town is Malgudi.

The deity in the sanctum sanctorum was nondescript and definitely disliked receiving journalists masquerading as worshipful devotees. Narayan swiftly brushed aside my colleagues' attempts to discuss his novels. He had no patience for any pseudo-scholastic analysis of his characters by itinerant readers. He was not offensive or impatient but looked bored by our attempts to dissect his works with him.

''Develop a healthy interest for the trivial things of life,'' he said. The most interesting things in our life, according to him, pass us by unnoticed. They shape us and our destinies too. (No, he didn't say that. It is what I deduced.) He looked more kindly at me because I talked in Tamil and likened him to P.G. Wodehouse, my favorite author in the English language.

In my college days, I slowly told him, my two great ambitions were to go to England and make a boat trip on the Thames as described by Jerome K. Jerome in his immortal work Three Men in a Boat and to go to Market Blandings and visit the sty of Lord Emsworth's pre-eminent pig, the Empress of Blandings. ''Now that I have read you and seen you, I would like to visit Malgudi.''

He was indulgent without being very helpful. ''Go ahead and find out. And when you find it, take me there.'' The meeting did not last long. My friends felt deflated. They came expecting great discourse, profound wisdom and learned pronouncements. Narayan was too simple and direct to be a celebrity that he truly was. When he spoke, the words sounded pedestrian and commonplace. No verbal cleverness, no flamboyance of language or arrogance of voice. I alone among the visitors found that the speaker closely followed the writer. Mellow, measured, flawless and profoundly simple. And he could be witty without being offensive or vulgar.

The more I read R.K. Narayan the more I found similarities between him and Wodehouse and the most remarkable similarity of all is this: Whether you read seven Wodehouse or Narayan novels or just read one novel of either seven times over, the level of enjoyment and empathetic pleasure is the same. You enjoy the charm of the writer and his uncanny ability to drag you into the ambience of his narrative even more than the beauty of the writing. It is like going back to your favorite food with relish.

Wodehouse's Blandings and Narayan's Malgudi are both mythical spots in which the genius of their creators was able to give ''airy nothings a local habitation and a name''. Malgudi, like his brother Laxman's ubiquitous 'Common Man' in checked coat and dhoti, is very real and identifiable everywhere precisely because it can be found nowhere.

To Narayan readers, as Graham Greene so aptly described, ''Malgudi is a real place with which we have been as familiar as with our own birth place. We know, like the streets of childhood, Market Road, the snuff stalls, the vendors of toothpaste, the Regal Hair Cutting Saloon, the river (Sarayu) and the railway''. Add to that the Kabir Street pyols, little temples, treadle printing presses, Gaffur's taxi (Jon Robinson of Blandings?) and the reading room, and you see the whole place pulsating with human activity of the kind that is memorable for its ordinariness.

Malgudi is Narayan's greatest invention wherein he could put in real people, real places in one harmony of day-to-day existence and eccentricity. Every minor and major character of Narayan's stories fascinates, even the only villain to figure in all his writings, Vasu, the man-eater of Malgudi. Narayan is that supreme alchemist who discovered that the ordinary is the most extra-ordinary aspect of civilized living. The navarasa of human life is not to be seen in cinematic exaggerations or in the blood and gore of modern novels or in the relentless efforts of peddlers of sex and obscenity in the print and audio-visual media, but in good, clean portrayal of life around you.

Rightly did Narayan discourage attempts at psychosocial analyses of his novels and characters. He saw life as it is and not as what it ought not to be. He took writing to a high level where his works could defy the application of critical literary yardsticks and standards. He was a superb storyteller and his style derived from the stories themselves rather than following any stereotype or archetypal fiction. You only see lovable characters, perhaps ludicrous and vain in some cases; and the narrative is smooth and gentle and the humor is totally unintrusive. From Swami and Chandran to The Guide and Nagaraj, Narayan created personae and places where the reader is involuntarily dragged into a living experience with those in print.

Behind all their unpretentious simplicity and ordinariness, Narayan's novels conveyed a sublime philosophy of life. Lives of ordinary people, like that of Swami, are ''full of incident without accomplishment'' but they are still full of happiness, elevating and instructive.

It is Narayan's literature that enabled me to understand the true import and meaning of a Zen parable about a priest who boasted to Master Bankei that his own Master ''could hold a brush in his hand on one bank of the river, his attendant held up a paper on the other bank and the teacher wrote the Holy name of Amida in the paper through the air''.

Bankei replied lightly: ''That is not the manner of Zen. My miracle is that when I am hungry I eat and when I am thirsty I drink.''

In the realm of Indian literature, Malgudi is like that Zen miracle. G.K. Chesterton said that Pickwick was but a sample of Dickens ''like a piece of leather or a lump of coal. But the piece of leather blocked the street and the lump of coal set the Thames on fire''. Ditto for Malgudi. The spell cast by it on us will outlive us and the writer himself and also hold the future generations in thrall.

Reader's Comments


Subject: SWAMY AND FRIENDS - 28 December 2011
I think the writer of this essay (VNR) is as much a lover of little things of life as RKN was. I was looking for instances depicting wit and laughter in SAF but could't put down the book before finishing it though I have already read a couple of times.
by: MOHAN SINGH